Understanding Your Car's Safety Features
In 1963, 23 states enacted legislation requiring safety belts to be installed in front outboard passenger seats for all new vehicles. As a result, in 1964, seat belts became standard equipment, not just in the 23 states with mandates but in the entire United States. It would have been foolish and costly to try and build separate vehicles for these markets, so auto manufacturers went all-in.
Seat restraints have evolved over the years and saved countless lives. In 1973, the safety revolution saw airbags enter the automotive industry. These airbags started as optional equipment in most vehicles. However, demand rose, and modern vehicles tout their safety as part of their selling points.
Now, we have driver-assist technologies revolutionizing the auto industry. For the last decade, these systems were optional, much like the airbags. But, once again, demand has risen to the point where everyone wants them. As a result, nearly every new vehicle has a standard suite of systems.
Hyundai offers Hyundai SmartSense, a collection of 16 electronic systems designed to elevate your ownership experience and keep you safe. While not all of these 16 systems operate when driving, most do. So, let's take a closer look at what these systems do and how they work so you can understand the benefits.
Forward Collision-Avoidance Assist with Pedestrian Detection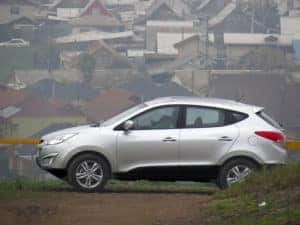 Image via Flickr by RL GNZLZ licensed CC BY-SA 2.0
This system uses advanced optical sensors and radar to scan the road ahead. When the sensors detect a vehicle in your path, you receive a visual and audio alert. In most cases, you'll receive more than one alert unless the object suddenly appears in your way. Pedestrians can walk out from between parked cars, causing this situation to arise. Hyundai's system can detect these pedestrians, as well as vehicles.
If you get distracted and ignore the alerts, the system automatically engages emergency brake support to help mitigate or avoid a possible collision altogether. Even if you brake on your own before an alert, the system provides additional brake pressure to assist if the sensors detect an imminent collision.
Smart Cruise Control with Stop and Go
One of the more popular systems, Hyundai's Smart Cruise Control, uses radar and cameras to keep your vehicle at a preset speed and distance while in traffic. The system constantly monitors the car's speed ahead and adjusts your vehicle's throttle to maintain that preset distance. When the car in front slows, your Hyundai automatically slows too, even to a complete stop. Once the way ahead clears, a simple tap on the accelerator engages the system, returning you to your preset distance and speed.
Driver Attention Warning
Distracted driving causes hundreds of thousands of accidents every year. Hyundai's Driver Attention Warning system doesn't prevent distractions but does recall your attention to driving when distractions occur. This system intelligently monitors your driving behavior and can detect drowsy or distracted behavior. When the system detects these dangerous incidents, it warns you with audio cues and a visual warning message on your instrument panel.
Lane Keeping Assist
Using cameras mounted high on your windshield, the Lane Keeping Assist system tracks your Hyundai while traveling within marked lanes. If you haven't signaled a lane change and the system detects you drifting, it sends visual and audio alerts so you can take corrective action. If you don't take any action, the system will apply gentle steering correction to return you to your lane.
Highway Driving Assist
This system works in concert with the Smart Cruise Control and Lane Following Assist systems. When you have engaged all three systems, your Hyundai automatically keeps you centered in your lane, driving at the correct speed, and keeping the appropriate distance from the car ahead.
Lane Following Assist
Your Hyundai uses cameras to monitor your travel within the marked lane. When engaged, this system automatically adjusts steering to keep you between the lines. When not engaged, the Lane Keeping Assist system takes over.
Blind-Spot View Monitor and Blind-Spot Collision Avoidance
Hyundai streams live video of your blind spots to your 10.25-inch touchscreen when you attempt a lane-changing maneuver. In this way, you have eyes where you usually can't see. The system alerts you if there's a vehicle present. In addition, if you fail to react, the system will gently steer you back into your lane to avoid a possible accident.
Surround View Monitor
This system provides a bird's-eye view of your Hyundai's surroundings at slow speeds. Primarily used for parking in tight spaces, the system features multiple cameras from every angle to create a view from above and project that image to your interactive display.
Safe Exit Warning
As we stated earlier, not every system operates while driving. This system alerts you when traffic approaches on the street side of your Hyundai when you're parked.
Rear Occupant Alert
Another stationary system designed to save lives, the Rear Occupant Alert system automatically activates if the rear doors open after turning on the engine. Then, when you turn off your Hyundai, the system reminds you to check the back seat.
In addition, Hyundai offers an Ultrasonic Rear Occupant Alert system that uses ultrasonic sensors that detect movement. If you leave a child or pet inside your car, you receive an alert on your phone once the system detects movement. At the same time, your Hyundai's lights will flash, and the horn will honk to draw the attention of passersby to help.
High Beam Assist
This intelligent system removes the hassle of turning your high beams on and off. Instead, the system detects oncoming headlights or the taillights of a vehicle you approach and automatically toggles your high beams to the low setting. Once the way clears, the system toggles back to high beams.
Rear Cross-Traffic Collision-Avoidance Assist
Backing up presents challenges, particularly in busy parking lots. This system alerts you when vehicles or pedestrians approach your Hyundai from either side while in reverse. In some circumstances, it engages emergency braking to avoid a potential collision.
Now you understand what safety features you have and how they work. Remember, these systems aren't meant as a substitute for paying attention and operating your vehicle safely. If you have questions about your Hyundai's safety systems, please contact us. One of our knowledgeable staff will happily answer your questions and provide a demonstration to ensure you know how your systems work. If your vehicle does not seem to be functioning properly, set up a service appointment and we will make sure you can drive safely.