Top 5 Spring Things for Families to Do Around Spokane, Washington
Spring is near in Spokane, and after a long winter, there's nothing like a warm weekend spent with family. We explored some of Spokane's best springtime activities, from iconic hot spots to well-kept secrets, so you can enjoy milder temperatures with your loved ones. Here's Spokane Hyundai's list of the top five spring things for families to do around Spokane, Washington.
Visit Riverfront Park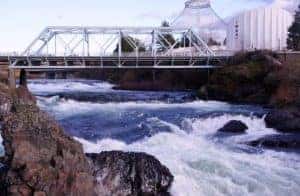 Photo via Flickr by Tracey Hunter Licensed under CC BY 2.0
A focal point of Spokane public life, no spring is complete without a family visit to Riverfront Park. This heavenly local park is a modern marvel. Even National Geographic named it as one of the country's most beautiful urban parks. This 100-acre park was once the site of the 1974 World's Fair, but now, it's home to scenic natural wonders, like America's biggest urban waterfall, and recreational activities like a carousel, a basketball court, a fountain, a skate park, an amphitheater, and a clock tower.
If your family isn't afraid of heights, enjoy Spokane from the treetops with a ride on the Numerica SkyRide, a cable ride that pulls you through the park at 200 feet above the ground. If you have any art and running buffs in the family, admire The Joy of Running Together, a collection of steel sculptures celebrating the local Bloomsday Run. Stop by the park's larger-than-life Radio Flyer, a 12-foot-tall, 27-foot-long wagon that little ones can climb into and slide down.
Finally, let kids explore the Ice Age Floods Playground, a 4,000-square-foot park with activities ranging from silly to educational. There's a three-story tower with slides in every direction, a fossil center where children can test their archeology skills, and plenty of places for parents to rest their legs. End the day at the nearby Monroe Street Bridge, where you can watch the sunset over the falls. Whether you're raising toddlers, teenagers, or anything in between, Riverfront Park offers something for everyone.
Spend a Day on the Spokane River
Welcome the warm weather with a family trip to the Spokane River. Get back in touch with nature and explore the water with water sports like swimming, fishing, kayaking, or paddleboarding. You can rent equipment from Fun Unlimited. For a friendly competition, challenge family members to race each other to the shore. By the end, you'll be exhausted and ready to enjoy a meal at a waterfront patio restaurant.
If you'd rather relax on the water, consider renting a boat. Unlimited Fun has pontoon boats for gentle drifting and soaking up the spring sunshine. Add an educational spin to the trip and work together to try and spot as many local birds as possible, like osprey, ducks, and blue herons. For high-octane thrills, rent a wake surf boat or even a couple of jet skis you can use to race around the river. No matter your speed, an afternoon on the Spokane River is a great way to connect with nature and test your athletic abilities.
Meet Wild Animals at Cat Tales Wildlife Center
Cat Tales Wildlife Center is an animal sanctuary in Spokane where professionals rescue and look after exotic animals that can't survive in the wild. This nonprofit blends education and conservation by offering these large animals a safe place to live and Spokane-area guests a safe place to learn about them. Big Cat Wildlife Center is home to animals like:
An African lion.
Bengal tigers.
A white tiger.
Siberian tigers.
A wolf.
Wolf hybrids.
Bobcats.
Foxes.
Coyotes.
Bears.
Cougars.
Pumas.
Canada lynx.
A serval.
If you're looking for an adrenaline rush, you can get up close and personal with the animals. Older children and adults can participate in Big Cat Adventures, which are immersive experiences that allow you to meet and feed either a bear, lion, or tiger. Safety comes first, so a trainer is nearby to protect you and you're given gloves and protective equipment. Many of the animals at Cat Tales prefer colder weather over the summer heat, but spring melts away ice and snow from the walkways, making spring a happy medium for a visit to this unique sanctuary.
Shop at the Spokane Farmers Market
Shopping at a local farmer's market can be a great way to support the local economy, stock up on healthy and delicious produce, and connect with your community. Starting in May, you can pile your family into the car and head to the Spokane Farmers Market. The market hosts a lively collection of local vendors selling unique items like:
Locally grown fruits and vegetables.
Grass-fed meats.
Quail eggs.
Homemade baked goods.
Fresh flowers.
Dried herbs.
Microgreens.
Specialty cheeses.
Coffee.
Soaps.
Candles.
Sourdough bread.
Local honey.
The market opens for the season in May and runs through October. You can plan a visit on a Saturday morning between 8 a.m. and 1 p.m. To learn if your favorite fruits, vegetables, and flowers will be ready by springtime, check the produce and flower calendars on the Spokane Farmers Market website.
Celebrate Mother's Day at Green Bluff Growers
Green Bluff Gowers is an association of local farmers who gather to celebrate and protect the Northwest's prime strawberry farms. Just because it's not quite strawberry season yet doesn't mean you can't visit the Green Bluff Grower's Mount Spokane headquarters for a springtime celebration. Plan to drive up for Blooms on the Bluff on Mother's Day Weekend, an annual event hosted each May where you can explore the fresh flowers that bloom each spring.
This tribute to Spokane's beautiful natural wonders is an opportunity to roll down your windows and take your favorite busy mom on a relaxing weekend drive. Once you've taken in all the sights, treat her to a hot, fresh meal at The Orchard Cafe at Walters Fruit Ranch. With fruity pancakes, savory breakfast sandwiches, and hot coffee, aim for a morning trip so you can catch breakfast. If you don't make it in time for breakfast, you can still enjoy one of the cafe's famous sweet treats, like cookies, milkshakes, or homemade ice cream.
That concludes Spokane Hyundai's list of family-friendly spring activities. Spring is one of the most beautiful times of the year in the Northwest, and we hope you can pack your weekends with plenty of family fun. If you're looking to celebrate the season with a new car, stop by Spokane Hyundai and explore our diverse inventory. Whether you want a sunroof to let in the fresh air, dual-zone climate control to compete with the warmer weather, or a great speaker system to blast your favorite feel-good songs, contact us to learn more about our collection of modern, affordable cars.