Hyundai Accessories 2022
We hope you have been enjoying your Hyundai to the fullest, no matter how recently you got it. If you want to add a little something extra, Spokane Hyundai sells and installs Hyundai accessories at affordable prices. Let us steer you on the right path with some of the best 2022 Hyundai accessories.
Customize Your Hyundai in Spokane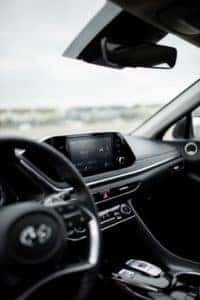 Image via Unsplash by kyddvisuals
Spokane Hyundai's parts shop has all of the genuine Hyundai parts and accessories you'll need to complete your project. Some of the features we're happy to get for you include:
Roof Crossbar Set
Two of the most popular crossovers on the market right now are the Hyundai Tucson and Hyundai Santa Fe. If you're driving one of these vehicles right now, you probably appreciate the cargo volume. Take your Hyundai's utility to the next level with this useful roof set. A roof crossbar set is perfect for camping gear, skis, bicycles, and other items that would ordinarily take up a lot of cargo space or be too dirty for the rear cargo zone.
Cargo Organizer
You can get Hyundai Accessories for every 2022 model, from the subcompact Accent to the full-size Genesis. Hyundai vehicles all come with competitive cargo and trunk spaces, and a cargo organizer helps you use them to the fullest. Fresh fruit from the store, glassware, and other sensitive items can sit in this pop-up organizer.
Hyundai cargo organizers have both covered and uncovered sections. Similar to a cargo net, the soft material keeps items from rolling freely or bumping around. From emergency supplies and groceries to sports equipment and emergency tools, nothing in your car will get misplaced again. For items that are too big and heavy for the organizer's compartments, you might also get some use out of cargo blocks.
LED Interior Lighting
Hyundai has established a reputation for producing high-quality vehicles with a premium feel. Many new Hyundai cars have lights you can put behind the glove box and steering wheel, filling the cabin with a cool blue glow. This accessory will help you set the tone and give your vehicle a more luxurious appearance. This feature combines nicely with lighted scuff plates for the door sills.
Driver Garbage Can
With these waterproof containers, you can say goodbye to coffee cups, gum wrappers, and old napkins. Never let random junk clutter your cabin when you could just pop it in a trash bin and empty it later. You can fit these containers at the front doors, the seatbacks, or behind the center console. Having at least one front and rear garbage can will be a lifesaver on a long road trip.
Floor Mats
When it comes to modern Hyundai vehicles, floor mats are included as standard equipment. Dealers and local stores also sell these mats, so you aren't forced to live with ones that happen to get stained or damaged. Inside these mats are layers of different synthetic materials that keep any moisture from going deeper. The carpet mats come in a range of sizes and colors, and some vehicles offer hard plastic mats with high-grip textures. If you ever just want to try a new style or shade, you can find one fitted for your 2022 Hyundai vehicle.
Seat Covers
Seat covers are great because they can easily fit over one seat or row as you wish. They also come in a variety of styles, all effective at blocking spills, dirt, pet hair, and more. Hyundai's genuine seat covers help stylize your vehicle and protect the underlying upholstery more effectively than aftermarket alternatives.
Car Body Cover
A car cover is excellent if you'll be parking outside. The best thing you can do to preserve your new Hyundai's value is to protect the paint job. Hyundai car covers assist in protecting the exterior from rain, sticks, falling leaves, and much more. They also help block out the sun and limit how hot it gets in the cabin. These body covers are water-resistant and typically available in matte gray or silver colors.
Sunblinds
Sunblinds are typically installed on the car's front and rear windscreens, but you can also find them for side door windows. These are made of a unique substance that blocks damaging UV rays from entering the vehicle when you leave it in the sun. They work as an alternative to car covers for protecting your interior and are easy to put up or take down.
Accessory Kits
An accessory kit is a bundle of themed replacements for a vehicle's floor mats, coasters, valve stem caps, and other parts on the inside and out. There are a wide number of aftermarket accessory kits on the latest Hyundai vehicles, but really, you'll get the best value and most appealing options with an original equipment manufacturer Hyundai kit.
Roadside Emergency Kits
You can never be too prepared when the unexpected happens. Any modern Hyundai can come with a handy emergency kit to handle a medical or automotive incident. The carrying bag includes booster cables and ties, hose tape, screwdrivers, slip joint pliers, a bungee cord, towels, a poncho, gloves, and an emergency blanket. It also comes with bandages, antiseptic wipes, an accident report form, a lightstick, and a flashlight. For just medical needs, you can also find Hyundai first aid kits.
Custom Hyundai Pedals
One cool place for a driver to change up the design is their pedals, swapping in ones with shinier material or an interesting shape. You can find Hyundai sport pedals for 2022 models and earlier, with benefits like extra grip and durable metal. Feel free to contact us to learn more about what pedal kits match your Hyundai.
Get Hyundai Accessories, Parts, and Service in Spokane
Most dealerships have only one real goal in mind: to sell more cars. At Spokane Hyundai, we're just as professional and eager to help you with Hyundai accessories as we are with genuine automotive parts, Hyundai service, sales, financing, and buying your car. Consider us the first and only place to go for Hyundai automotive services in Spokane. Take a look at our 2022 Hyundai models if you haven't upgraded yet, and you'll be picking out accessories before you know it.