7 Things to do in Spokane This Summer
Spokane's summer months offer warm, welcoming weather that makes it nearly impossible to hunker down at home. Pack up and head out into the city this summer to enjoy all that Spokane has to offer. Here are our top suggestions.
Riverfront Park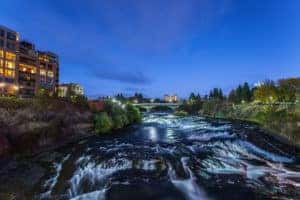 Image via Flickr by Sjensen~ licensed by CC BY 2.0
Spanning 100 acres, Riverfront Park is a stunning oasis in Spokane's urban environment. Once a rail yard, the park now features a wealth of attractions. Enjoy the green expanses of Huntington Park. Then, visit the engaging Bloomsday Sculptures which feature a series of steel figures representing runners in the Spokane Bloomsday Run. If you want to cover some distance yourself, head to the Skate Ribbon. What's an ice rink in winter becomes a paved track for rollerblading or skateboarding in summer.
If you've worked up a sweat, cool off at the Riverfront Rotary Fountain or enjoy a fresh breeze as you spin about the Looff Carrousel. The Garbage Goat is a must-see for children who will get a thrill out of offering up small pieces of garbage that are whisked away in the steel goat's mouth.
You can take in a lot from the ground, but Riverfront Park is truly breathtaking when seen from above. Hop in the Numerica SkyRide and take a 15-minute ride down 200 feet across the Spokane River, in front of the falls, and under the Monroe Street Bridge.
Manito Park and Botanical Gardens
Manito Park and Botanical Gardens is a must-see in the summer months when the gardens are brightly blooming. The park features five distinct gardens, including the Nishinomiya Tsutakawa Japanese Garden, Rose Hill, Ferris Perennial Garden, Duncan Garden, and Lilac Garden. The sculpted botanical gardens cover 20 acres, while another 78 acres are left to the native and cultivated landscape. A family-friendly favorite, the park includes several features that children will love, such as the ducks at Mirror Pond and the Upper and Lower Playgrounds.
If you work up an appetite while you're in the gardens, you can stop by Park Bench Cafe. This seasonal restaurant serves coffee drinks, pastries, sandwiches, salads, and ice cream.
Spokane River Centennial Trail
Take a summer stroll, jog, or bike ride down the Spokane River Centennial Trail. This trail is nearly 40 miles and goes from Sontag Park in Nine Mile Falls to Coeur d'Alene, Idaho. As the train crosses the Washington/Idaho state lines, it changes names to the North Idaho Centennial Trail. You can enjoy as much or as little of the trail as you like.
The trail is easily accessible in downtown Spokane by most north- or southbound streets between Mission Park and Kendall Yards. Three miles of the trail pass through historic downtown Spokane where you'll find ample opportunities to hop off for shopping, food, or drinks.
Northwest Museum of Arts and Culture
The Northwest Museum of Arts and Culture maintains expansive collections divided into Art, Regional History, American Indian, and Archives. Pieces from these collections are periodically exhibited so that the museum can offer an ever-changing selection of highlights.
This summer, the museum will host "Dreamworks Animation: The Exhibition – Journey From Sketch to Screen." From March 27 through September 1, you can dive into the elements of character, story, and world as they relate to beloved Dreamworks films like "Shrek," "Kung Fu Panda," and "How To Train Your Dragon." Finally, you'll emerge into the Drawing Room, where you can pull up a seat at the Animation Desk digital kiosks and create your own animated movie sequence.
Also on display over the summer is "Golden Harvest: Flour Sacks From the Permanent Collection." This exhibit features cloth sacks from the first half of the 20th century that display imagery from that time. Many of these were destined for the Chinese market and feature Chinese characters and designs.
Murder on the Orient Express at Spokane Civic Theater
June 12 and June 19, 2022
Agatha Christie's "Murder on the Orient Express" comes to life on the stage of the Spokane Civic Theater in this theatrical murder mystery. In the story, a man is discovered stabbed in his compartment aboard the Orient Express while the train is stranded in a snowdrift. It's left to the train full of frightened passengers, led by detective Hercule Poirot, to uncover the plot. How was the passenger killed inside an otherwise empty compartment locked from within? Grab a seat to the show and find out as the story unfolds on the Margot and Robert Ogden Main Stage.
Crave Northwest 2022 at Spokane Valley CenterPlace
July 14-16, 2022
CRAVE! NW is presenting a three-day food festival that's sure to delight your taste buds. You can experience the distinctive flavors of the Northwest as interpreted by talented local chefs. Look for treats like homemade ice cream, ethnic entrees, meat roasted over an open flame, and fresh local produce. Each night, you'll have access to a selection of beer, wine, cider, and spirits from regional producers.
The event takes on a different theme each day. Thursday features the Burger Smack Down complete with live music, smack down wrestling, and awards for the best burgers. Friday highlights Foods From Around the World, creating a Carnivale atmosphere with live entertainment. On Saturday, the Fire & Smoke event includes tribal dancers and distinctive smoke and fire foods. These events are all 21+.
2022 Spokane Valley Cycle Celebration
July 31, 2022
If you enjoy cycling, you won't want to miss the annual Spokane Valley Cycle Celebration in Mirabeau Point Park. You can choose from the 50-mile "Hills Around the Valley Ride," the 25-mile "Adventure Ride," or the 10-mile "Family Friendly" ride. These three diverse options ensure there's something for nearly everyone. The rides begin at 8 a.m., 9 a.m., and 9:30 a.m., respectively.
Riders who register by July 18 will receive a T-shirt. At the conclusion of the race, all riders enjoy a box lunch from Brother's Pizza at 11:00 a.m.
Do you have any summer suggestions that we missed? Contact our team at Spokane Hyundai and let us know so we can update our listings!