7 Great Places for Antique Shopping Around Spokane, WA
Antique stores offer a special shopping experience where you can combine the thrill of a treasure hunt with the satisfaction of picking up something new. If you love scouring these shops for vintage finds and one-of-a-kind items, you'll be thrilled with all that Spokane, Washington, can offer. Clear out plenty of space in your vehicle so you're prepared to cart away your newfound treasures. Whether you're looking for furniture or frocks, our community has some great stores you're going to love.
Market Street Antiques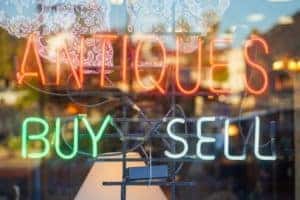 A family-owned business, Market Street Antiques has over 25 years of experience locating and selling antique and vintage items. The shop also features over 25 dealers across two floors of display space. The store specializes in furniture, cabinets, and collectibles from Native American tribes, but you can also explore aisles full of toys, clothing, home decor, household items, and books. Market Street Antiques can also purchase your vintage items and assist with the estate buying or selling process.
Located at 4912 N. Market Street in Spokane, Market Street Antiques is open from 9:30 a.m. to 5 p.m. Monday through Saturday and from 11 a.m. to 5 p.m. on Sunday.
Blue Cat Vintage
Blue Cat Vintage is a consignment store featuring an eclectic collection of vintage pieces. You can outfit your home with antique furniture such as seating, shelving, sideboards, dining sets, curios, rugs, art, and more. Add flair to your home with distinctive decor pieces like antique art, glassware, and sculptures. Illuminate your space with pieces from this store's collection of lamps, ceiling lights, and wall sconces. You can even complete a new vintage outfit with the store's wide selection of costume jewelry.
You can stop and browse in-store or check out the website to see some of the latest offerings. Located at 1919 East Sprague Avenue, Blue Cat Vintage is open Wednesday through Saturday from 10:00 a.m. to 6:00 p.m. and Sunday from 11 a.m. to 4 p.m.
Two Women Vintage Goods
Two Women Vintage Goods was born from one family's passion for antique items. This store specializes in antiques and vintage-inspired decor with an urban farmhouse theme. The owners often host special events — like a Christmas shopping experience complete with holiday-themed items and treats — and always offer an inspiring selection of seasonal items to dress up any holiday. You can find Two Women Vintage Goods at 2012 E. Sprague Avenue, where it's open Tuesday through Saturday from 11 a.m. to 6 p.m.
Vintage Mercantile and Auction
Local professionals John and Melissa Niece combine their distinct talents to make Vintage Mercantile and Auction a great go-to for fabulous vintage finds. John is the collector who can always see the value in a new discovery. Melissa is the organizer who knows how to give items new life. Together, they've cultivated a passion for uniting people with the precious antique items they need. Their store location at 5005 N. Market Street has shelves upon shelves of incredible finds, including collectible toys and furniture.
Besides a traditional brick-and-mortar store, the Nieces also run an online-only auction for select items. Auctions go live on Thursday mornings and close at 7 p.m. on Sunday nights. Buyers must pay and pick up their items within 72 hours of closing. If you're interested in consigning items yourself, the mercantile accepts new consignors from Wednesday through Sunday between 10 a.m. and 4 p.m. The store is open from 11 a.m. to 6 p.m. Monday through Wednesday and from 11 a.m. to 5 p.m. Thursday through Sunday.
Revival Lighting
If you're looking for antique or reproduction lighting to illuminate your living space, Revival Lighting has everything you need. This store carries a wide selection of restored vintage lighting fixtures. The in-house restoration staff can even refurbish your own lighting features, bringing worn antiques back to glowing life.
If you like the look of antiques but haven't been able to find that perfect piece, you can also explore the collection of reproduction lighting. This includes both ceiling lights and sconces with a distinctly antique look and feel. When custom ordering products, you can specify every detail down to the glass and finish. This full-service lighting store offers everything you need to keep your home shining bright. Revival Lighting is open Monday through Saturday from 9 a.m. to 5 p.m. and you can find the store at 14 W. Main Avenue in Spokane.
Time Bomb
Time Bomb is a toy lover's paradise that's fun for the whole family. This store offers a wide selection of vintage toys from beloved childhood classics, including Star Wars, Dick Tracy, and Teenage Mutant Ninja Turtles. Check out wrestling action figures, metal cars, old comic books, wind-up robots, and more. You can scour the store for classic vintage lunch boxes or check out the collection of old bikes.
Time Bomb features an assortment of art collectibles, including prints by Chris Spriggs, Jeff Allison, and Keith Weesner. You'll also find specialty books on all the fascinating trends that take you back in time, from bands to babes. Perfect for the kid or kid-at-heart, Time Bomb is sure to transport you back in time to simpler days. Time Bomb is on 711 N. Monroe Street; it's open Tuesday through Friday from 12 p.m. to 6 p.m. and on Saturday from 12 p.m. to 5 p.m.
Chic and Shab
Chic and Shab is a furniture boutique that scoops up stunning vintage and antique items to give them new life. The artists here do outstanding work painting, refinishing, and otherwise revitalizing found pieces to turn them into one-of-a-kind works of art. Whether you're looking for eclectic furniture, wall hangings, or knick-knacks, you can find them here. If you need supplies for a refurbishing project, be sure to check out their selection of Dixie Belle paint, waxes, glazes, and stains.
Chic and Shab is located at 2321 N. Monroe Street. The store is open from 11:00 a.m. to 5:00 p.m. Monday through Thursday and from 10:00 a.m. to 5:00 p.m. Friday and Saturday.
Now you have our roundup of favorite vintage shops. Did we miss any great antique stores in the Spokane area? If you know of some outstanding destinations that we've missed, contact our team at Spokane Hyundai and let us know. We want to make sure we're always pointing our customers in the right direction when they head off our lot.