4 Things To Do in Spokane in This Spring
Once the weather warms and the flowers bloom, it's hard to avoid the urge to go outside and enjoy the sunlight. There are many wonderful things about Spokane, including the world's largest basketball tournament, but few compare to the beauty and majesty the city exhibits in the spring. Whether you're from Spokane or just visiting, you don't want to miss the sweet scent of the spring Spokane breeze. Here is a list of some ways to take advantage of your time outdoors in Spokane during the spring.
Spokane Falls Waterfall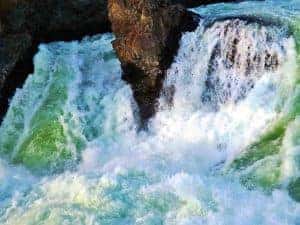 Image via Flickr by Krystal.Hamlin licensed by CC BY 2.0
You can't be in Spokane without visiting the Spokane Falls Waterfall. Serving as the center of the city, this awe-inspiring cataract rumbles from a distance and beckons visitors to approach. If you want to see the falls at their most powerful, it's best to visit in May as the winter snow melts away and the water is at its peak.
Due to its immense size, there are several prime spots to view the falls, whether you prefer land or air. To get up close to the falls and feel the mist kiss your cheeks, consider walking across the pedestrian suspension bridges next to the Washington Water Power building. Here, you'll get the best view of the upper falls and can experience first-hand the power of nature. Although the bridges may sway, the strong cables are stable and will hold.
If you'd like to view some other sites while you visit the waterfall, consider one of the newest viewing points of the falls, A Place of Truths. This location features handcrafted statues that honor Spokane's Native heritage. Carved by a member of the Colville Tribes, the metal animal statues represent the Salish creation myth and provide an enriching experience. You can also view the falls from the nearby Huntington Park or from the SkyRide gondola that travels over the waterfall. The SkyRide gondola is a 20-minute ride and tickets are $7.75 for adults and $5.75 for children.
The Spokane River and the Spokane Falls Waterfall run through downtown Spokane. You can visit the falls anytime during regular business hours, but it's best to experience the waterfall during sunrise and sunset when the golden sunlight reflects and dances on the water. For more information about the falls, call the Riverfront Park visitor information center at 888- 776-5263.
Spokane Riverfront Park
Get out and get energized at Spokane Riverfront Park. With something to do nearly every day, there's every reason to take a walk through the park, enjoy the sweet scents of spring, and shop at the Riverfront Market. The market is open every Wednesday in April. On April 6, the market opens from noon to 7 p.m., and on April 13, 20, and 27, it's open from 3 p.m. to 7 p.m. Enjoy live and local entertainment, visit with area vendors, snack on fresh food, and shop from artisans selling handcrafted items.
Stay after sunset and treat yourself to the free Pavilion Light Show. Every Friday, Saturday, and Sunday, see a colorful display of lights as they illuminate the Spokane night sky. While you're there, make sure to stop and see the 1902 Clock Tower, take a ride on the 1909 Looff Carrousel to feel like a kid again, and get your steps counted on your pedometer as you stroll the Centennial Trail. If you have little ones, stop at the giant red wagon, a sculpture created by artist Ken Spiering that doubles as a slide.
Riverfront Park is at 507 N. Howard Street. Park hours are from 6 a.m. to midnight daily, year-round. For more information, or to learn about the park's schedule of events, call 509-625-6600.
Cat Tales Wildlife Center
Formerly known as Cat Tales Zoological Park, the Cat Tales Wildlife Center is not a zoo, but a wildlife rescue and education center. Focused on being a permanent haven for rescued, retired, and non-releasable wildlife and exotic animals, the center provides professional animal care for the resident wildlife and public education for the Spokane community.
Some animals you can expect to see on your visit include the black bear, bobcats, foxes, coyotes, a Canadian lynx, Bengal tigers, and wolf dogs. The center has recently welcomed Millie, a raccoon. Hand-feeding opportunities are available to enhance the learning experience and make your visit as memorable as possible.
Cat Tales Wildlife Center is at 17020 N. Newport Highway, in Mead, Maryland. Hours of operation are 10 a.m. to 4 p.m. Tuesday through Sunday. Tickets start at $15 for adults and $10 for children. The center also offers a yearly membership subscription. For more information, including how to schedule a hand-feeding and gain membership perks, call 509-238-4126.
Spokane Lilac Festival
Locally known as "Lilac City," Spokane is especially proud of the lilac blooms that grace the area annually. To experience something unique and magical, visit the 84th Annual Spokane Lilac Festival. This year, the festival week is from May 16 through May 21, and the theme is "Our Town." Central festival events include a Royal Tea Party where guests of all ages get the royal treatment, a Queen's Luncheon on Friday, May 20, at 11:30 a.m., and the President's Gala the same day at 6:30 p.m.
You can view one-of-a-kind art pieces by local artists at the Lilac Art Show on Monday, May 16. The 84th Annual Armed Forces Torchlight Parade is on Saturday, May 21, at 7:45 p.m. in downtown Spokane. Complete with floats, marching bands, clowns, and various performers, it's fun for the whole family. Festival events and prices vary, so be sure to check the website for a list of activities and updated prices. For more information, call 509-535-4554.
So there you have. Spokane Hyundai has just shared with you our list of favorite things to do in Spokane in spring. If you're looking for something to do in the warm weather, consider one of these activities to keep you entertained. What do you think of our list of suggestions? Did we miss your favorite activity to do or location to visit during Spokane's spring? If we did, let us know. Leave us a message sharing your thoughts and we'll be happy to check out your ideas.