2022 Kona Electric
Hyundai is in progress to achieve carbon neutrality by 2045.
From green energy innovations to developing next-gen transportation platforms, we're driving toward a more sustainable future.
Electrified ride, supercharged style.
Say hello to SUV versatility in an all-electric vehicle, the new 2022 KONA Electric. Getting an EPA-est. 258 miles with zero emissions on a single charge, our all-electric small SUV goes all out with upgrades in style, safety and comfort. It's packed with technology like available Hyundai Digital Key, giant fully digital screens, and available wireless device charging.⁠
Federal tax credit
Up to $7,500. And additional state incentives may apply.
California cash incentives
Up to $3,500 with Clean Fuel Reward and Clean Vehicle Rebate programs combined.
HOV lanes
Drive solo in carpool lanes where available.
No stopping for gas
Charge at home, work or one of the growing number of charging stations.
No oil changes
No mess, no stress with one less maintenance task to worry about.
Zero tailpipe emissions
Drive toward a greener tomorrow.
Quick acceleration
The electric motor smoothly delivers instant torque.
Regenerative braking
Brakes convert energy into electric power, which recharges the battery and essentially creates additional range.
Design
Positively charged.
KONA Electric brings a new sophistication and style, from lower front and rear fascia to a solid, more aerodynamic front bumper where its easy-access charging port lives.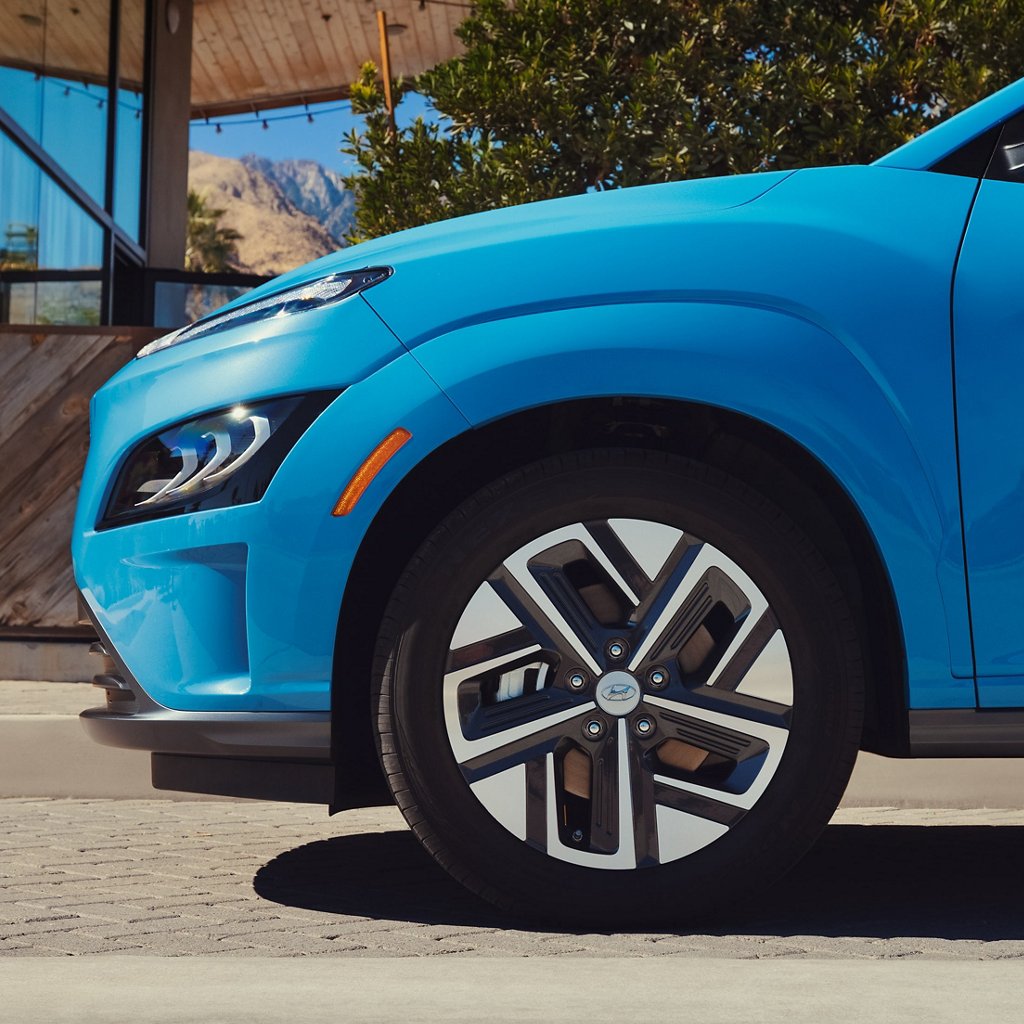 Digital displays
Supersize it.
KONA Electric has the latest innovations, served up in the most beautiful way. After all, driving information in an advanced SUV like this should look as stylized as the modern sophistication that surrounds it.
| | |
| --- | --- |
| | 10.25-inch touchscreen navigation |
| | Get everything you need to know—important vehicle info, messages, maps and entertainment on an expansive 10.25-inch screen.⁠⁠⁠ |
| | |
| --- | --- |
| | 10.25-inch digital instrument cluster |
| | A modern digital display shows all your important driving information clearly and beautifully, like a look into the future. |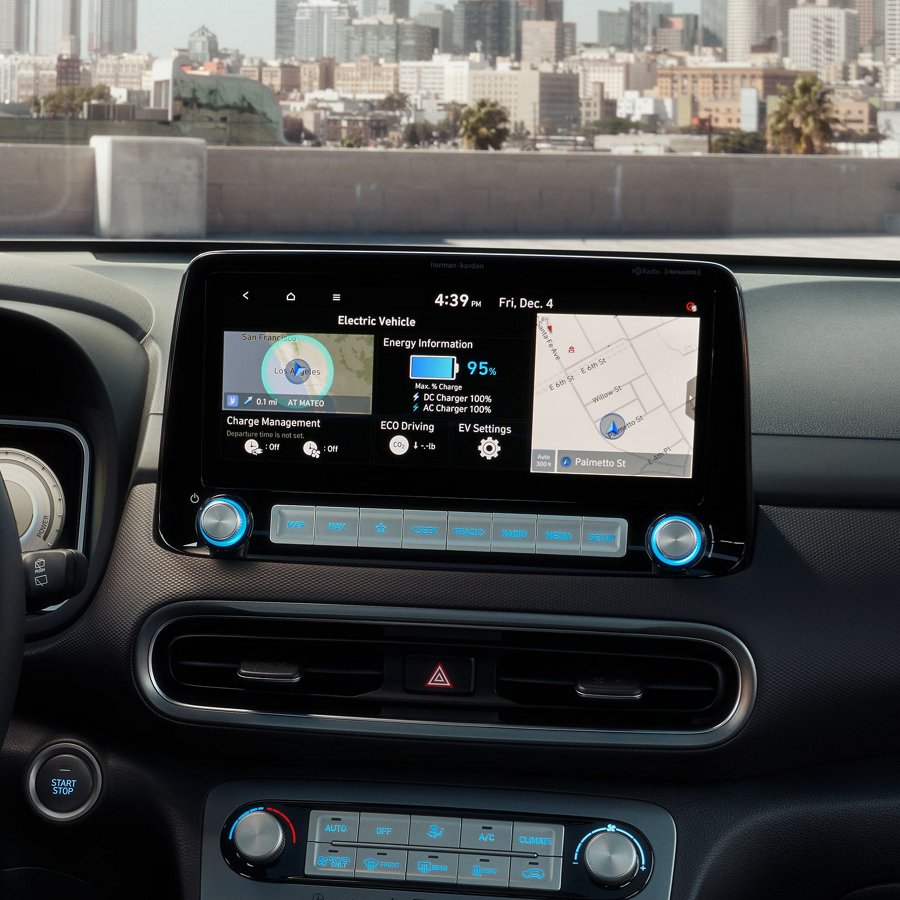 Connect to everything. Wired to nothing.
Now you can wirelessly connect your iPhone® with Apple CarPlay® and access your favorite mobile apps safely from KONA's standard 8-inch touchscreen.
Got an Android? Use Android AutoTM to get your smartphone apps, maps and infotainment. No wires needed on our standard 8-inch touchscreen.⁠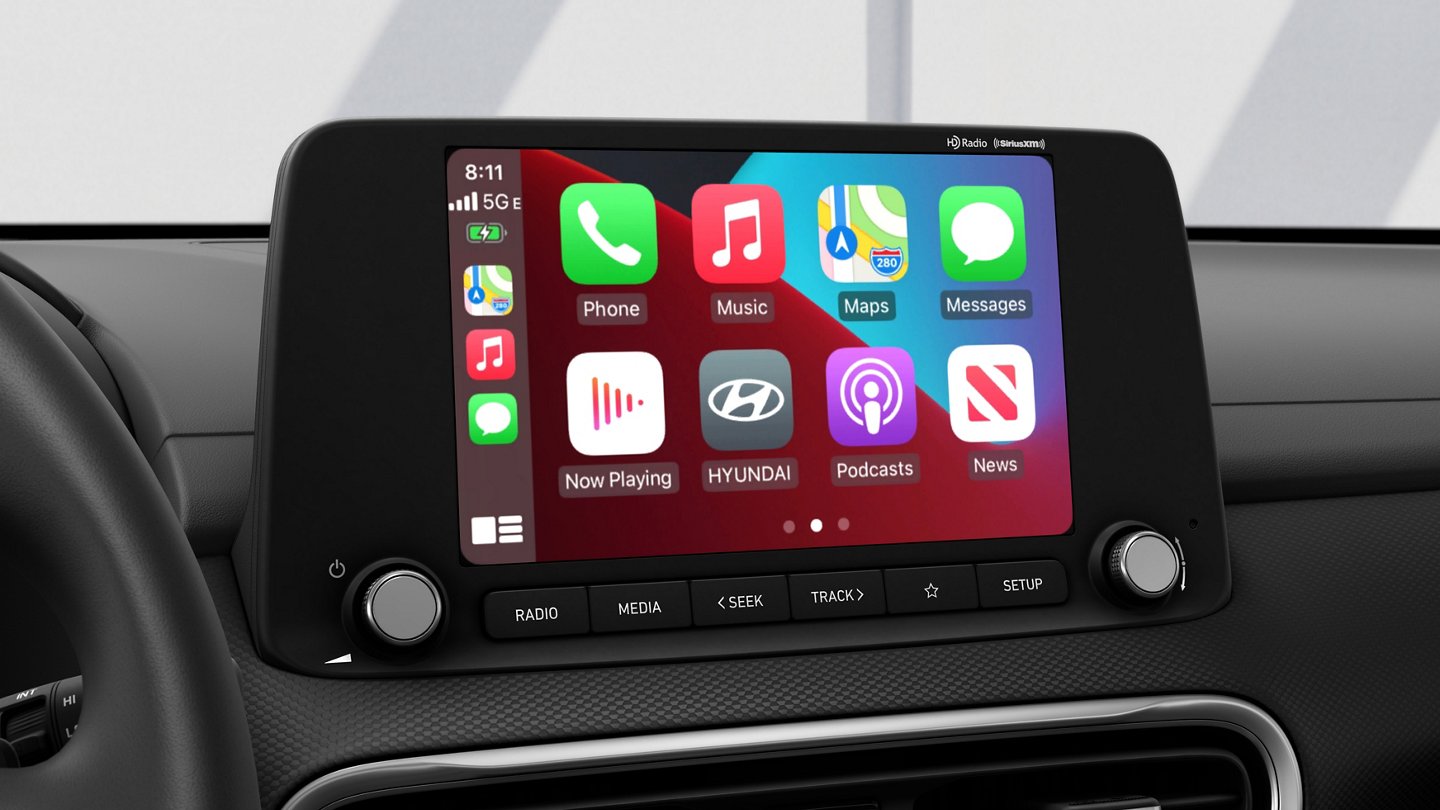 Interior
The perfect place to recharge.
Driver-centric and spacious, the look for KONA Electric is clean, modern and focused. It's a place where you can escape in comfort and just feel good.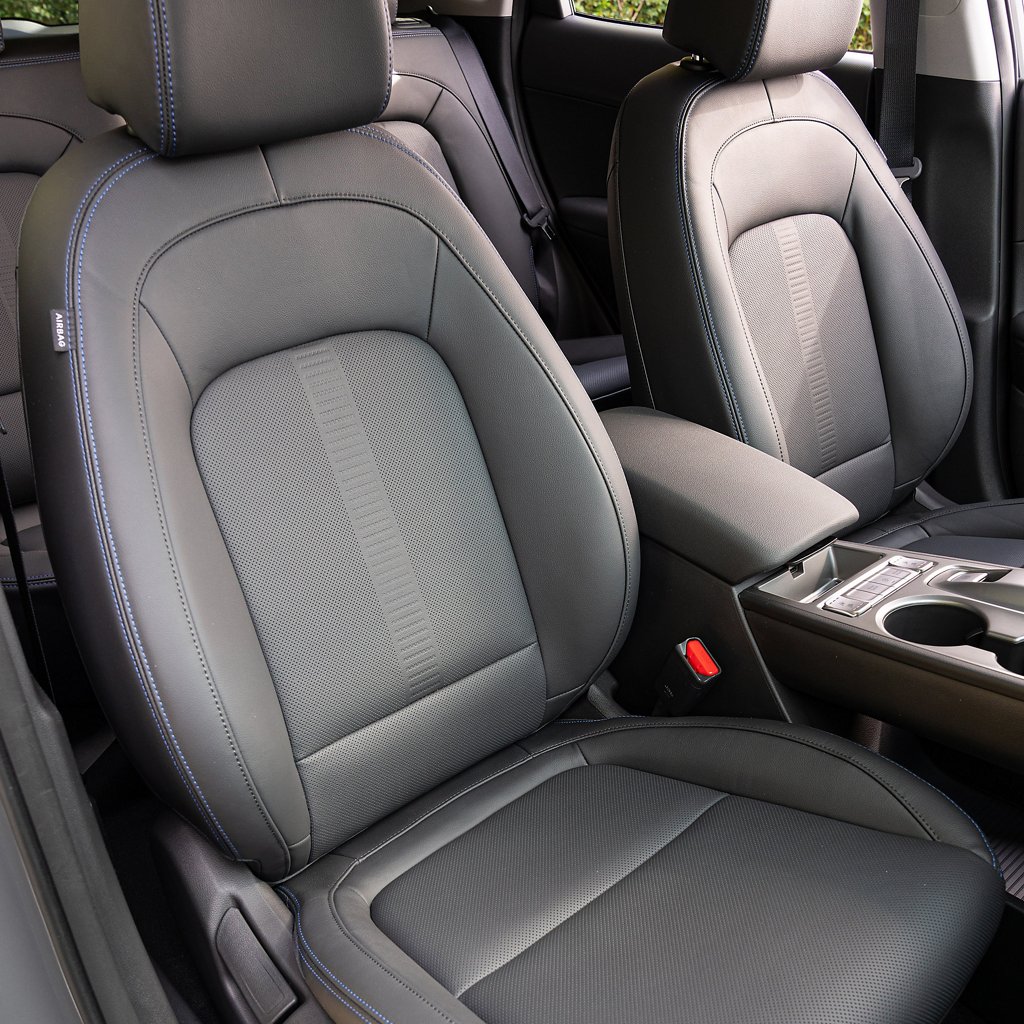 Intuitive tech
Huge conveniences, down to the smallest detail.
Wireless necessities. Clarified sound. This is new technology your future self will thank you for, starting right now.
| | |
| --- | --- |
| | Hyundai Digital Key |
| | Your phone is command central. With available Hyundai Digital Key you can use it to unlock doors, start your car and even share your KONA Electric with other drivers. Simply text a copy of your Digital Key to a compatible smartphone and friends and family can take KONA Electric for a spin when they need it. ⁠⁠ |
| | |
| --- | --- |
| | Harman Kardon® Premium Audio |
| | Available Harman Kardon® Premium Audio with Clari-Fi® Music Restoration Technology surrounds you with full, clear, joyous sound the way it was intended to be heard. |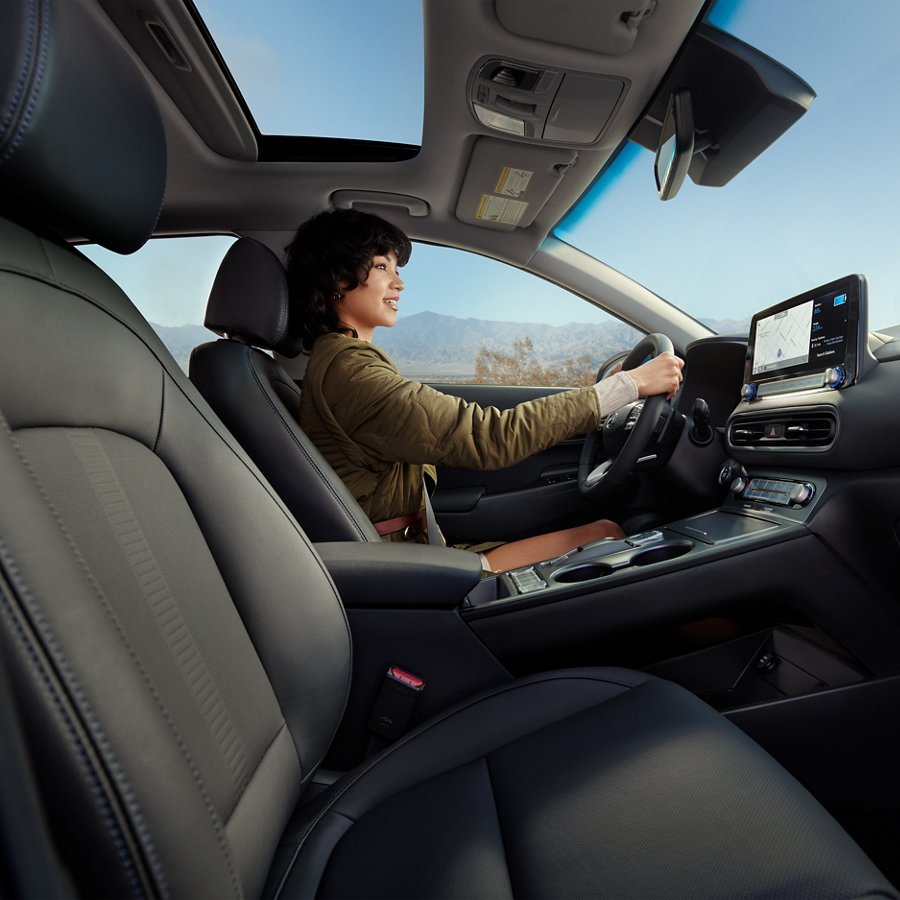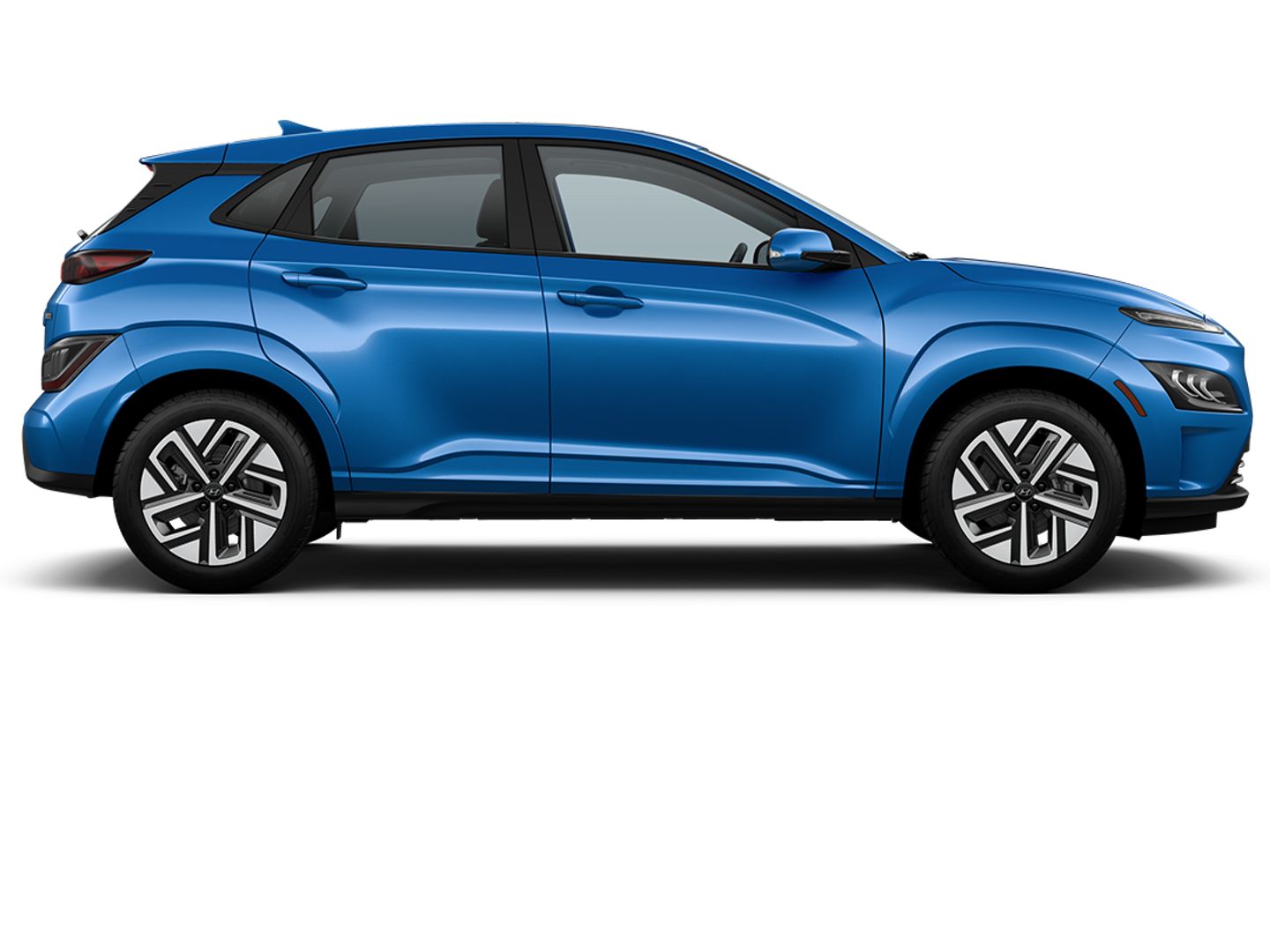 Quick to charge. Guaranteed to last.
Recharging is easy. And KONA Electric's advanced lithium-ion polymer battery is covered by a 10-year/100,000-mile warranty, so you can feel confident your battery will last.
Easy charge. Easy go.
Electric vehicles are growing in number and no wonder, they're efficient and they're easy to maintain.
| | |
| --- | --- |
| | Charging time |
| | Just connect to a home outlet of 220/240V (Level II Standard 7.2kW) and you can charge your KONA Electric from 10% to 100% in approximately 9 hours, 15 minutes. At charging stations, with Level III Quick Charge 50kW, you can power up from 10% to 80% in about 64 minutes. With Level III 100kW, you can charge from 10% to 80% in about 47 minutes.⁠⁠ |
| | |
| --- | --- |
| | Regenerative Braking |
| | Capture the energy that's already in motion. KONA Electric's brakes convert the wheels' mechanical energy into electricity and store it in the battery. Choose from three energy capture levels. |
| | |
| --- | --- |
| | Remote charge scheduling |
| | Available for your favorite device, Bluelink® app features Charge Indicators and Charge Scheduling, so you can charge during off-peak hours when electric rates are lower. |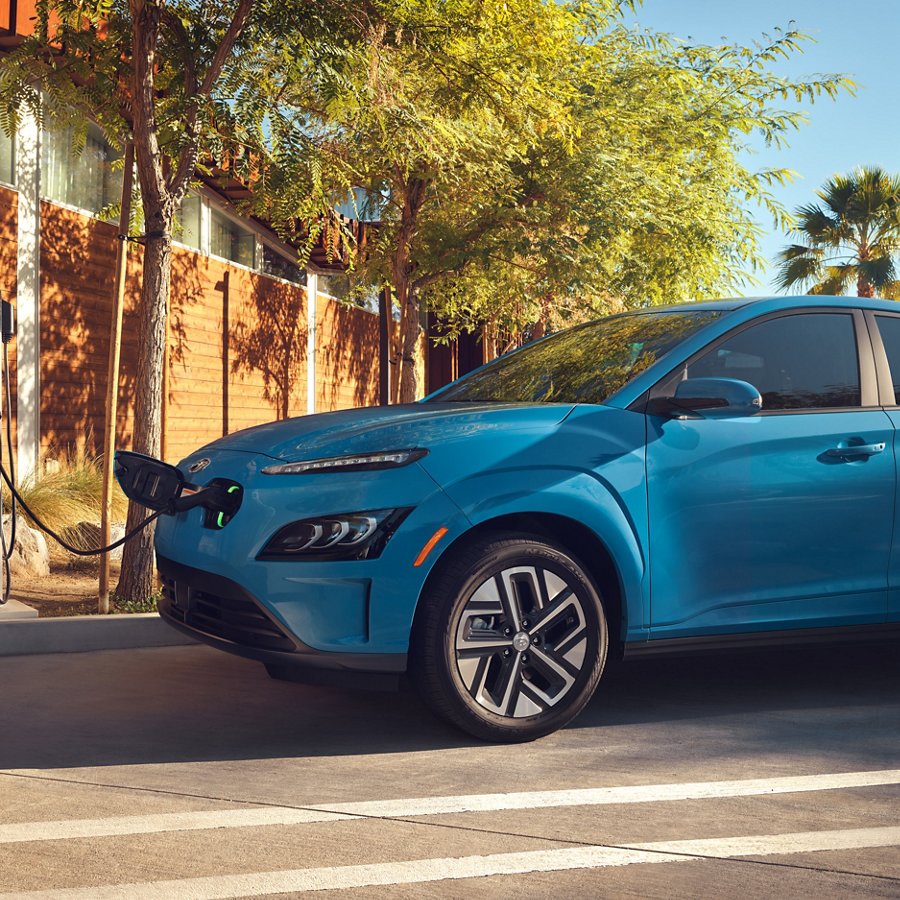 Charge ahead. Free of charge.
Your journey has power. And it's on us. Electrify America has built an amazing ultra-fast network of DC fast-charging stations across the country so you can feel confident there's always power ahead. And right now 2022 KONA Electric owners get 250kWh of charging—about 1000 miles of power—on us.⁠